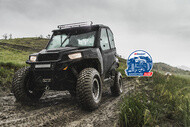 BUCKLE UP WITH THE BFGOODRICH ADVENTURE CLUB
This is BFGOODRICH territory and you can go off the beaten track with us!
Nothing beats the view from behind the wheel of a 4x4. For most people, a bumpy, muddy and rocky road might be a driving nightmare, but not for you. This is why you've landed at the right place.
We'd like to sign you on as a member of the exclusive BFGOODRICH Adventure Club.
As a club member, you're guaranteed to get exclusive information and advice from our 4x4 experts and industry partners. This will help to level up on your 4x4 skills and give you the confidence to conquer the harshest tracks. We also have sweet prizes up for grabs at our events – and we take care to choose the best events to get your adrenaline pumping. 
As the makers of superior tyres, you can be sure we'll provide a thrilling experience with your every encounter. You can meet like-minded people and become part of a community of die-hard offroad enthusiasts.
And who says that family can't get involved? We often braai up a storm, so bring along your family to join in the fun. 
This is the sort of action you can expect from us. Check out this night drive event at 4x4 Kungwini in Bronkhorstspruit. 
4x4 Adventure_Consumer_HD_V8.mp4
Sign up to be a part of the BFGOODRICH Adventure Club and secure your front-row seat for all the adventure thrills. And you'll also be first in line to know about any upcoming drives.
So what are you waiting for?