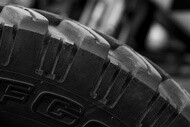 Social Media Usage Rights
WHAT IS THIS ABOUT?
Your Social Media photo got our attention - and we want to share it with the world! Therefore we plan to use the photos you posted on your social media platform with the BFGoodrich-related hashtag and make it visible to all of our customers, too.
BY RESPONDING TO THE MESSAGE FROM OUR BFGOODRICH SOCIAL MEDIA ACCOUNTS WITH "#YESBFG" YOU REPRESENT AND WARRANT THAT:
you are eighteen (18) years of age or older,
you own all rights in and to your photos,
you have permission from any person(s) appearing in your photos to grant the rights herein,
BFGoodrich's use of your Social Media photos does not infringe the rights of any third party or violate any law,
you (and any persons(s) appearing in your photos, consent to BFGoodrich's use of the photos as set out in these terms and conditions, and
that you have read and that you agree to the following terms and conditions:
WHAT HAPPENS IF I RESPOND WITH #YESBFG?
You grant us rights to present your Social Media photos in BFGoodrich content, or more precisely: you grant BFGoodrich Tyres an unlimited, non-exclusive, assignable, sublicenseable, perpetual, worldwide right of utilisation of the photos you post or have already posted on Social media with an BFGoodrich-related hashtag. A "BFGoodrich-related hashtag" is a hashtag that consists of a BFGoodrich brand, trademark or the name of a BFGoodrich product or campaign.
This means by responding with #YESBFG in the Social Media message BFGoodrich gets an unlimited right to use the photos with the relevant hashtag as digital and non-digital content. The utilization includes for example the use of the photos in the BFGoodrich website, BFGoodrich point of sale, postings on BFGoodrich social media accounts, BFGoodrich internal communication, or the use on billboards, posters, websites of BFGoodrich retailers (e.g. tyre dealerships). However BFGoodrich Tyres shall have no obligation to use your photo.
WHAT'S IN IT FOR ME?
Your photos will not only be visible to visitors of your Social Media feed but to other fans of BFGoodrich brand products all around the world. You have the opportunity to inspire others to become driver enough. In return you release and discharge BFGoodrich Tyres from all and any obligation to pay you for any use of your photos and any of the intellectual property rights contained therein in connection with the uses described above when you respond with #YESBFG.
WHAT IF I CHANGE MY MIND AFTER A WHILE?
You can always revoke the granting of rights to BFGoodrich by deleting the BFGoodrich-related hashtag, the photo itself or by just submitting a request.
WHY DO I HAVE TO GIVE BFGOODRICH TYRES REPRESENTATIONS AND WARRANTIES?
Because we want to make sure that no rights are infringed with the use of your photos. Therefore by responding with #YESBFG you represent and warrant that (i) you own all rights in and to your photos, (ii) you have permission from any person(s) appearing in your photos to grant the rights herein, and (iii) BFGoodrich Tyres' use of your Social Media photos does not infringe the rights of any third party or violate any law. Moreover you indemnify, defend and hold BFGoodrich and any person acting on BFGoodrich Tyres' behalf harmless from and against any claims, damages, liabilities, costs and in connection with use of the photos as described above.
WHY IS THERE A LIMITATION OF LIABILITY?
By responding with #YESBFG to BFGoodrich Tyres' message on Social Media, a legally binding license agreement between you and BFGoodrich Tyres is concluded and we want to minimize the legal risks for BFGoodrich Tyres with the following limitation of liability: TO THE MAXIMUM EXTENT PERMITTED BY APPLICABLE LAW, IN NO EVENT WILL WE BE LIABLE FOR (i) any special, indirect, incidental or consequential loss, costs, damages, charges or expenses; or (ii) loss of profits, or (iii) loss of business, contracts, goodwill, business opportunities; or (iv)  loss of income, anticipated savings; or (v) loss or corruption of data or information; or (vi) any degradation which occurs in relation to THE USE OF THE PHOTOS AS DESCRIBED ABOVE, WHETHER ARISING IN TORT, CONTRACT OR ANY OTHER LEGAL THEORY, EVEN IF WE HAVE BEEN ADVISED OF THE POSSIBILITY OF SUCH DAMAGES.
All references to "BFGoodrich" and "BFGoodrich Tyres" is to MICHELIN Pty Ltd.
Conditions of publication and treatment of photos/videos

Thank you for visiting the www.bfgoodrich.co.za website (the "Site"). These conditions of publication and treatment of photos/videos establish some rules applicable to each photo or video downloaded from the social wall uploader or coming from MFPM social accounts thanks to # linked to Michelin.

1. TECHNICAL RECOMMENDATIONS
Accepted file formats:  jpg, png, jpeg, also tiff (but upload will take longer). We will not be able to use screenshots, assembled photos and files extracted from a website. The originals are necessary. Photos and videos shot in low quality will not be published. We will not accept any photos created in 3D or with a commercial purpose.
As a reminder, by publishing any photos or videos, you warrant that you are the owner.

2. PHOTOS / VIDEOS OF EXTERIORS
Framing: wide if possible to give a good view of the subject
Camera angle:
Avoid taking photos too far from one side or low angle shots, so as not to distort the subject.If you can't get far enough away, opt for one part.
Brightness: photos that are too dark will not be accepted.
No photos will be published which feature drugs, alcohol, tobacco or e-cigarettes.
Michelin recommends avoiding uploading any imagery containing licence plates as they are personal data. It is sufficient to blur out the licence plates.
Content featuring nudity of any kind will not be used.
 
3. PHOTOGRAPHS WITH PEOPLE
People can be shown, but they must not be identifiable as it is personal data. Faces must not be recognisable.
Exceptions:
Group shots are permitted
Photograph the person from behind
Motorcyclist with helmet
People with blurred faces that are unidentifiable
 
4. TYRE FRAMING ACCEPTANCE
We accept photos with a background (landscape, cars…).
The tyre needs to be with wheel rim if alone or car-mounted in most cases. Only BFGoodrich tyres will be accepted.

Effectiveness
These Terms of Use are effective when posted.