Adventure and achievement define BFGoodrich's history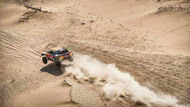 BFGoodrich®'s compelling story dates all the way back to 1870 when Dr. Benjamin Franklin Goodrich founded North America's first tyre factory in Akron, Ohio. His son, Charles Cross, subsequently established the very first research facility in the United States. In 1903, BFGoodrich® was chosen by the automotive giant Ford to supply tyres for its iconic Model A, the first car to cross the American continent from east to west. With the aviation industry similarly taking off, BFGoodrich® started to equip airplanes, including the Curtiss Aeroplane Corporation's June Bug, which established a new speed record in 1909, and the Spirit of SaintLouis, in which Charles Lindbergh made the first non-stop transatlantic flight in 1927.
Success across the board
It did not take long for BFGoodrich® to start building up an enviable record in the world of motorsport, too. In 1915, it became the first tyre manufacturer to win the USA's famous Indianapolis 500 race two years in succession.
The brand went on to earn an excellent reputation for the quality of its off-road tyres thanks to an eloquent list of top results.
In 1972, BFGoodrich® won the famous Baja 1000, which crosses hostile desert terrain in northwest Mexico, before going on to stake its claim as the punishing event's undisputed master thanks to a score of more than 20 victories to date. Shortly after its takeover by Michelin in 1990, the brand achieved success in other forms of off-road competition, including the inaugural FIA Cross-Country Rally World Cup title in 1993, followed by victory on the celebrated Pikes Peak Hill Climb in 1994 with New Zealander Rod Millen (Toyota Celica).
BFGoodrich® won the Paris-Dakar Rally for the first time in 1999, with Jean-Louis Schlesser, before scoring an extraordinary sequence of 10 consecutive victories on the event. In addition to the company's 15 Dakar triumphs to date, mention should also be made of BFGoodrich®'s 200-plus other successes in a variety of international off-road championships and events.
1999 & 2000 1st, Paris-Dakar Rally with Jean-Louis Schlesser
2002 & 2003 1st, Paris-Dakar Rally with Hiroshi Masuoka (Mitsubishi Pajero)
2004 1st, Paris-Dakar Rally with Stéphane Peterhansel (Mitsubishi Pajero)
2005 1st, Paris-Dakar Rally with Stéphane Peterhansel (Mitsubishi Pajero)
2006 1st, Paris-Dakar Rally with Luc Alphand (Mitsubishi Pajero / Montero Evo)
2007 1st, Paris-Dakar Rally with Stéphane Peterhansel (Mitsubishi Pajero / Montero Evo)
2009 1st, Dakar Rally with Giniel de Villiers (Volkswagen Touareg)
2010 1st, Dakar Rally with Carlos Sainz (Volkswagen Touareg)
2011 1st, Dakar Rally with Nasser Al-Attiyah (Volkswagen Touareg)
2012 1st, Dakar Rally with Stéphane Peterhansel (Mini Cooper)
2017 1st, Dakar Rally with Stéphane Peterhansel (Peugeot Sport). Sébastien Loeb and Cyril Despres made it a one-two-three finish for Peugeot Sport/ BFGoodrich®
2018 The 2018 Dakar produced an all-BFGoodrich® podium thanks to Carlos Sainz (Peugeot 3008 DKR) and Toyota Hilux drivers Nasser Al-Attiyah and Giniel de Villiers